Rádio Renascença Boosts Creativity With AETA
8 November 2023
The station can broadcast from anywhere at any time thanks to AETA technology
LE PLESSIS ROBINSON, France — October 5, 2022
Private, commercial radio station Rádio Renascença is making smart use of advanced codec technology from AETA Audio Systems to connect to its listeners.
Based in Lisbon and owned by various organizations within the Portuguese Catholic Church, the station is part of Grupo Renascença Multimedia, which also operates RFM and Mega Hits.
According to Jose Loureiro, Grupo Renascença Multimedia Assistant Manager, Radio Inovation & Technical Unit, the scope of the group's programs has evolved since its beginning in 1937 and is now much broader, offering a program for everyone," and not just religious content, while at the same time, maintaining a thread to this heritage.
The station, which is a long-time AETA customer, employs µScoops, Scoop5s IP at MCR. For field use it also has Scoop5S, Scoopy+S units, Scoophone4G codecs and ScoopTeam. Loureiro also explains that in some cases, AETA's codecs interface with AEQ Phoenix Stratos codecs and receives connections from an AEQ Talent as well as LUCI Live.
It also implements AETA gear for live programs, including mobile productions, events. And uses AETA units for all the live remote events, such as from football matches, concerts, on-location radio shows as well as for contribution — news and entertainment reporters.
"We bought the first AETA SIP Codecs in 2011 to meet the request for a special commercial event. We needed to be able to do some of RFM's radio shows from a customized van and on the move," said Loureiro. "At the time, the choice on the market was smaller than today and Scoopy+ was — in our opinion — the equipment that offered the features we needed, with a good quality/price ratio."
The event was a success, adds Loureiro. "This positive experience, together with the comfort of an excellent relationship and support by Sitemaster, AETA's local representative and AETA's ongoing technological advances, made us decide to stick with the brand." He says the launch of AETA's Double Streaming technology was also a factor and, in some ways, a "game changer" for his operations, adding that the remote access option is very useful for end-users in the field.
"Before switching to AETA, producing live shows outdoor was often limited by the availability of ISDN and would require lots of planning and time for implementation: Anything remote meant bad audio quality," said Loureiro.
But with very thorough equipment like Scoopy+ initially, more recently ScoopTeam with double streaming technology, Loureiro explains that they now feel that they can broadcast from anywhere, at any time. "The confidence we have in AETA portable codecs motivated us to create some innovative programs like broadcasting from a bike or a hot air balloon or traveling to 15 cities (1,850 kilometers) in three days while broadcasting our morning show from a minivan," he said.
Let's add to this that the purchase of ScoopyFlex with 2x4G integrated was made in July for the World Youth Day 2023 in Lisbon, Portugal. "The ScoopyFlex was given to the correspondents without prior training on the device. All correspondents immediately understood and mastered the device and immediately went on air with it. They also mentioned that they had worked without issues inside sacral buildings using the embedded 2x4G modules providing stable links under difficult circumstances. During the event one journalist of Radio Renascença equipped with ScoopyFlex accompanied the Pope during a trip and all worked fine with AETA's device", Says Mr Loureiro. Despite short leadtime, the client kept faith in AETA, seeing the Scoopy Flex as the solution for covering this event.
AETA accepted the challenge and delivered right on time the 17th of July and the World Youth Day took place from 01. – 06. August 2023.
Yann Vonarburg, AETA's general manager adds; "The relationship we have with Rádio Renascença is clearly what AETA is aiming for: smooth communication with mutual trust that leads to a satisfied end user who appreciates the technology we develop. We are happy to count this creative and cultural station as one of our loyal customers and will continue to support their requirements moving forward."
More information about AETA and its products is available at www.aeta-audio.com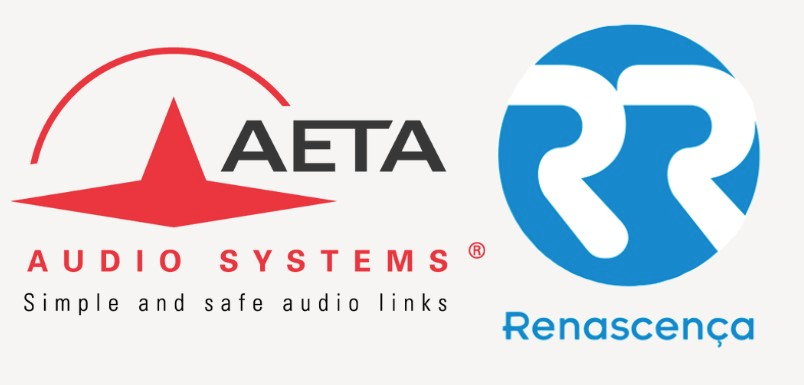 # # #
About AETA Audio Systems
Founded in 1978 and based in France, AETA Audio Systems designs and develops a full range of audio and IP codecs. Focusing on the radio and television broadcast markets, the company's adaptable Scoop range of products is designed to fit the needs of all broadcasters. Suitable for use both in the studio and on the field, AETA Audio Systems' innovative, reliable and intuitive solutions deliver a simple and safe user experience.
AETA Contact:
Yann Vonarburg
General Manager
Tel: +33 1 41 36 12 00
Email: yvonarburg@aeta-audio.com