AETA Remote Access
With the new AETA Remote Access feature, you can control all the parameters of your codecs remotely and in real time via Internet, including 4G mobile networks.
AETA Remote Access is available on the full range of AETA codecs running over IP:
ScoopTeam (firmware 1.03 minimum)
Scoopy+ S (firmware 1.09 minimum)
ScoopFone 4G (firmware 1.07 minimum)
ScoopFone IP (firmware 1.07 minimum)
MultiScoop
µScoop (firmware 1.05 minimum)
Scoop5 S / Scoop5 S-IP (firmware 1.09 minimum)
---
Define your AoIP settings, make a call, set a microphone gain during a live … all of this becomes possible.
This new control option brings security and peace of mind to your technician who no longer needs to be on site to configure the devices. The handling is done from the HTML server well known to AETA codecs users, and so far accessible on local network (LAN).
Wherever you are, wherever your codec is, you keep control of the machine and can react to an unforeseen event or a configuration problem.
---
The system relies on using a remote access server, as an intermediary between the codec and the control device. It allows the user to access the embedded html server of the codec, and thus to control of all the settings and parameters of the codec in real time.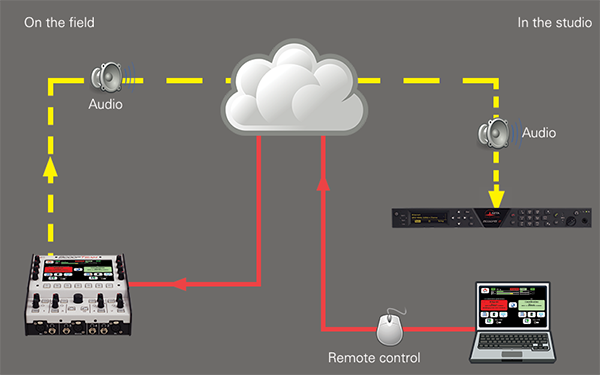 A control session is performed in two phases:
The codec connects to the cloud.aeta.com server, and gets available for a possible remote access session.
A user who wants to remote control the codec sets a connection to the server, and the server sets a virtual link between the control device and the codec, identical in its operation to a direct link via a LAN.
The two connections are secured and encrypted.
---
Remote Access Portal:
With the "Remote Access Portal" service, have a global visibility on your pool of codecs.
This HTML tool allows you to:
Have global visibility over all your codecs
See straight away the status of each codec
Filter out sub-groups
Identify codecs that need to be updated
Access with a double-click the remote codec set-up page

---
Remote assistance:
This service allows the AETA support staff to access the codec, for help or possible investigation. Such operation cannot be performed without an activation on your part.
This service is totally free and doesn't need to subscribe to the AETA Remote Access option to be active.